At Burger King -- March 1998
Angelica, looking "mature" for a Burger King spot for the Whopper Jr., as seen on CBS, TNN, and other places thart "Rugrats" is not shown.
(picture from Burger King commercial, (c)1998 Burger King Corporation. Angelica TM & (c) 1998 Viacom. Special thanks to Mathias Banner.)
During their first tie-in with Burger King, which lasted 2/23/98 to 3/29/98, participating US Burger Kings offered 5 Rugrats toys with their Kids Club meals, a different one with each meal. The toys were:
| | | |
| --- | --- | --- |
| Toy: | Description: | Date Of First Availability: |
| "Jumpin' Chuckie" | Chuckie jumps around on his toy bunny. | 2/23/98 |
| "Hero-On-The-Move Tommy" | Tommy crawls. | 3/9/98 |
| "Tandem Triking Phil & Lil" | Phil & Lil on a "Big Wheel". | 3/2/98 |
| "Wind-Blown Angelica" | Angelica in her toy convertible. | 3/23/98 |
| "Reptar Alive" | A walking Reptar. | 3/16/98 |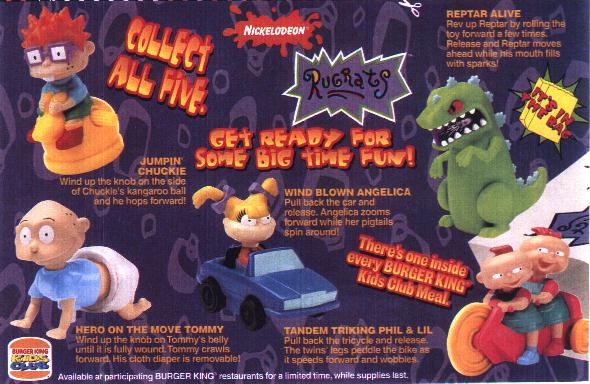 Rugrats toys that came with Burger King Kids Club meals during March 1998.
(From V.9 #2 (March 1998) of Burger King Kids Club Adventures, (c)1998 by Burger King Corporation. Rugrats characters are (R) & (c)1998 by Viacom.)
Each toy comes with a 12-page (including covers) miniature version of Nickelodeon Magazine (the cover previously used in the original, large version), which features the toy's instructions, word search, picture puzzle, "Say What?" (you add the words to the balloons), a scrambled word puzzle (this one features the Kids Club Kids, not Rugrats), a coupon for Oral-B Rugrats toothpaste & toothbrush, and entry blanks to subscribe to Rugrats Comic Adventures, Nick Magazine and the Kids Club.
In addition, V.9 #2 (March 1998) of Burger King Kids Club Adventures, a 4-page magazine free to everyone, featured signs to cut out, featuring Rugrats & the Kids Club kids. Rugrats signs in that issue include:
Angelica Sign: "We All Make Mistakes, 'cept Me!"
Phil & Lil Sign: "Hey! Be Glad I'm Not Twins!"
Tommy & Chuckie Door Hanger: "Tommy & Chuckie's Toy Repair -- Repairs While You Wait! Enter At Your Own Risk!!"
Reptar Light Switch Sign: (On Position) Monsters Gone (Off Position) Monsters Here!
Chuckie Light Switch Sign: I Thought You's Never Turn The Lights Back On!
2 TV ads, one for the Whopper Jr., featuring Angelica (see above) and another one for the Kids Club meal (the director says "Cut!" before Angelica does her scene, leading to Angelica calling the director a baby, with the director being, of course, Tommy, with director's chair & beret), was televised on various TV stations and networks throughout the US during the promotion.
(Special thanks to Mathias Banner & Anthony Dean)